FOLLOW THE MARK
Every Albion Product is etched with The Albion Mark. This is the signature of Albion quality and commitment. Every mark corresponds to an Albion Product Line, and each line is defined by its unique aesthetic and functional qualities as well as its price point.
REMEMBERING HOWY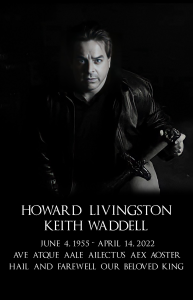 Howard (Howy) Livingston Keith Waddell III passed away unexpectedly, but peacefully, in his sleep on April 14, 2022. Howard was a truly magnificent man, husband, father, and business owner. His mere existence made those around him better and stronger. An avid writer, reader, historian, political activist, and horseman, Howard co-founded with his wife, Amy, what is known as one of the greatest sword manufacturers in the world – Albion Swords – located in New Glarus.
Howard graduated magna cum laude from Marlboro College in Vermont, with a double major in History and Anthropology. He went on to do social work, where he learned the harsh lesson that not every family was as happy as his. His natural creativity later lured him to a marketing position for the Massachusetts Bay Transportation Authority in Boston, MA. His brilliant and tireless efforts earned him awards and accolades over the years, including mentions in several management textbooks and publications. One of the most prolific was his handling of the 1990 Back Bay train derailment. Over 450 people were injured, and Howard visited them all at the hospital. He also collected any belongings found on the train, and personally returned them to the commuters. The night before Back Bay subway station was reopened, Howard was asked to "pull together some coffee and donuts" for the commuters. In mere hours, Howard arranged for the best hotels in the city to set up tables on the platform, and provide a full coffee service, complete with linen table cloths, silver coffee urns, china cups and saucers, and an assortment of delectable pastries for the more than 10,000 commuters that morning. That's just the kind of man he was. When something was to be done, it was always to the best of his ability.
Right before founding Albion Swords, Howard was the Deputy Assistant Secretary at the Department of Labor in Washington DC. Working under the Clinton Administration, Howard handled the external relations activities for Secretary Robert Reich, and Secretary Alexis Herman. Again, he earned awards for his work, including the coveted Hammer Award from Vice President Gore.
He met his wife, Amy, in 1996. Knowing Howy's love for swords, for their first date, at Amy's suggestion, they went to Medieval Times in Chicago. The couple married at that same location exactly one year later, Howard in a full suit of armor, and Amy in a golden 15th century gown. Howard's sons, Tim and James, served as his groomsmen, carrying his sword and shield. Howard and Amy were married for 25 years, and he never faltered in his role of her knight in shining armor for even a second.
Howard was a wise man, whose advice was always spot on, and whose assistance was always a solution. He was generous in both heart and spirit, unable to say no to any opportunity to help people and animals. You would not know it by looking at his desk, but he had an organized mind, allowing him to walk into any form of chaos, and break it down into something manageable. His intelligence and strength of character were admired by many.
Howard put into Albion not just his time, but also his heart, soul, and uncompromising belief in the Rules of Knighthood:
Solitude
Humility
Gratitude
Pride
Cooperation
Friendship
Forgiveness
Honesty
Courage
Grace
Patience
Justice
Generosity
Discipline
Dedication
Speech
Faith
Equality
Love
and lastly, Death.
"Life is a long series of farewells; only the circumstances should surprise us. A knight concerns himself with gratitude for the life he has been given. He does not fear death, for the work one knight begins, others may finish." Sir Thomas Lemuel Hawke of Cornwall, 1483
Using historical information, Howard set strict quality standards for Albion's sword line, which sent ripples throughout the industry, changing it for the better. He, alongside Peter Johnsson, developed an historically-accurate line of swords that they, Eric McHugh, and Albion staff, brought to life, and continue to bring to life every day. As Sir Thomas wrote, "…the work one knight begins, others may finish," and that is how it will be with Albion. Howy may have started it, but others will now keep it in motion, creating an even stronger company to honor Howard, his work, his passion, and his beliefs. The company has always been such a point of pride for Howard that every effort will always be made to continually earn and warrant his pride, regardless of temporal dimensions and limitations.
Howard is now in a state of well-deserved rest from a life richly lived; but his kindness, pure heart, and ability to bring such joy to those he loved, are undeniable testaments to the fact that he deserved a much longer life. The world will be a darker place for many, as they crave the light that followed him always.
Howard is survived by his adoring wife, Amy Christensen-Waddell, and his devoted son, Timothy Eoghan Waddell. He is preceded in death by his loving parents, Howard and Elaine (Nash) Waddell, and his much-missed son, James Kaven Waddell.